The Dark Power Pro line of PSUs has always been popular for its stability and high efficiency levels. Those are especially important for enthusiasts who require an ultra-stable power supply at very high loads. Until now, Be Quiet! only offered higher wattage models like 850W, 1000W and 1200W. This however, changes today with their new release of the more mainstream models of 550W, 650W and 750W. All of them carrying the same 80 PLUS Platinum-level efficiency label!
We got the Dark Power Pro 11 550W at our disposal today, the PSU still comes with a premium price tag, but also with all the premium features like seen in the higher wattage models.
Packaging
Let's continue with the packaging of the PSU. Normally, we aren't used to see much 'high-end' low-wattage power supplies on the market, but the Be Quiet!'s box clearly states the word on top of it. That said, this is probably one of the only ones, if not the only 550W Power Supply with a platinum efficiency certification. On the back of the package, you'll find some more informations about the content and features of the product that's inside.
Opening the box reveals a very neat packaged product with a pretty little container to store the cables apart from the product itself. The package includes the AC power Cable, user Manual, fan cables, OC key and a variety of other cables (24pin, 8(4+4) pin, PCI-e, ...). You can use the OC key as a switch to a single or multiple rails. In addition to that, you can actually use a PCI-e slot in order to have the switch on the backside of your case. Most people won't use the switch at all, but it's nice to have this extra feature for some enthousiasts. The fan extension cables introduce another welcome feature; the ability to connect fans directly to the PSU!
There's a good mixture of molex and sata cables, enough to power all storage devices in your rig. Even when this PSU is only 550Watt you do have enough cables to support a Dual-GPU configuration or even more!
Exterior & Interior
Like we're come to expect, the PSU offers great build quality with a robust exterior, anti-vibration mounts and an awesome design looks-wise. Be Quiet! has always tried to be one of the most unique Power Supply manufacturers on the market. This one is an example of how the company brings its own concept in the boring design tradition of ATX power supplies. Offering a design far beyond anything with noise cancelling materials, a neat and classic bars protection of the fan and the shiny, but still professional looks of the 'Dark Power Pro' concept label. You'll find the specifications sticker on the base of the PSU, claiming the unit can provide 45A on the 12V rails, which should be more than enough for a decent GPU or even a weaker dual-GPU setup plus other devices.
Behind the fan grille, you'll find a be quiet! 135mm fan which is said to be part of the silent wings 3 family. A while ago, we did a review of the older silent wings 2 in which these fans got our full attention! Probably the most silent fans we ever tested. That said, the fan only runs at a maximum speed op 1200rpm which is enough to provide 55.35CFM through the unit. Be Quiet! claims the noise of the fan to be inaudible at least, with a measured noise of 8.5dB at 10 per cent load and only 10.1dB at maximum operating speed!
The 24-pin connector is the only non-modular cable on the PSU, which shouldn't be any problem as this is something you'll always need to get your PC up and running. Other connectors on the side of the PSU are 4 PCI-e connectors (which is insane for the small amount of wattage from this piece of hardware), 2 4pin/8pin connectors for motherboard/CPU power, multiple power connectors for storage devices and 4 fan connectors directly on the PSU. This is a decent set of ports which you'll only find on very high-end power supplies. You can find a good description of the differences between non/semi/fully-modular PSUs using this link.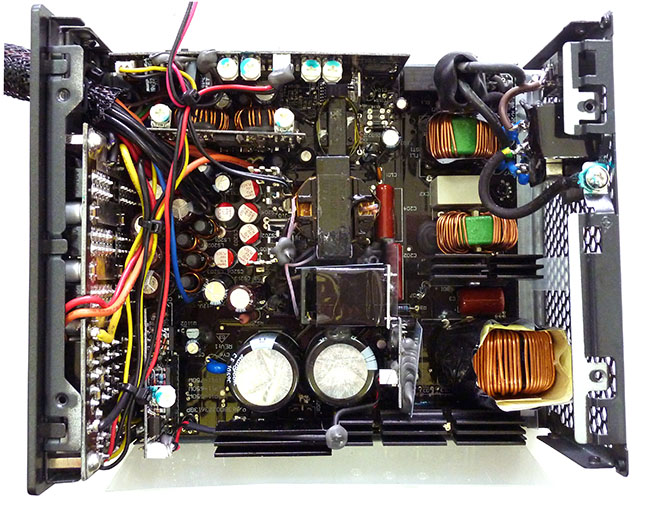 Inside, you'll find a very neat assembled collection of components. A clean layout with premium-quality capacitors, good filtering and better than average soldering. But here's the interesting thing: the PSU does have two main bulk capacitors!! Something which we normally expect to see in Power supplies over 750W. The rated voltage of the capacitor is 450v, so damaged capacitors in the PSU wouldn't be very likely when your PC stops working, you'll need to pay more attention to other components of your build as long as you didn't use an overwhelming power consuming dual-GPU setup with this power supply. The platinum certification might stand for more efficiency, so the real wattage levels lie closer to its maximum potentials, but that doesn't mean it's able to provide more than its maximum wattage levels! 
Efficiency
As BlackHoleTec is new to testing the efficiency of power supplies, we still have a very limited test procedure which is only able to test the effeciency of the outputs on various wattage inputs. How good does the PSU translate the wattage levels to the hardware components? The higher the percent of efficiency, the less power it needs to provide the wanted power to your rig's internals. That's why platinum certified units are able to provide more wattage to the components without having a very high rated wattage level. With our next Power Supply review, we promise you more results including voltage regulation, PFC (power factor correction) and ripple testing. For now we'll provide you with power efficiency numbers and over power protection (MAX wattage) numbers.
Power Efficiency
Efficiency (%)
110W
91.02
220W
94.13
445W
93.34
550W
91.21
Efficiency levels are fenomenal and truly exceed the required numbers to get a platinum certification. Like we said before, we haven't seen any platinum certified Power Supply Units of this wattage level yet and with this as our first PSU review, we have to say we actually start with the best of the best of its category. Following units might even look weak or inefficient after testing this one!
Over Power Protection (OPP)
One of the most important protection features of a power supply is of course the over power protection. Companies tend to provide their units with a mechanism to allow their units to bear more watt than their rated wattage levels. How do we test this feature? That's plain and simple, we just raise the power over the PSU until it shuts down (OR explodes, but that's likely not to happen if the feature actually works). The power levels right before it shuts down is the maximum wattage and a measure of how strong this over power protection really is.
|   | Shut Down / Didn't Explode | Maximum Wattage |
| --- | --- | --- |
| OPP | Yes | 661.3 |
The Maximum Wattage level is very high which gives the PSU a well overhead so it's able to handle much higher wattages than advertised on the box. This feature is working very well and there's almost no chance this PSU will actually explode when putting too much wattage through the system 
.
Noise
We didn't notice the fan speed going over 550 RPM, while it's rated to have a maximum speed of 1200 RPM. This is actually very good, the noise is kept very limited while the PSU performs on safe temperatures. When we ramped up the wattage levels put through the PSU, we could measure an increase in decibels with our testing system while it remained so quiet that only the trained audiophile was able to hear the real difference. We brought our results in a table comparing several wattage levels. Measures were done 10cm from the fan in a room with a temperature of 25°c.
| Wattage Level | Noise |
| --- | --- |
| 110W | /  |
| 220W | / |
| 300W | 17.5 dB |
| 550W | 21.5dB |
I'm pretty sure our decibel meter is working and it shouldn't be one of the cheap ones you can find online.... Anyway, we weren't able to get any measure of noise coming from the fan under 300W! After that, the PSU stays virtually inaudible to the human ear.
Conclusion
In our eyes, Be Quiet! came up with a real masterpiece. We're still new to this line of reviewing, but we can honestly say this product overwhelmed us with our first power supply review. A low-wattage model carrying the Platinum certifaction tag isn't something you can easily find on the current retail market. Coming along with that fact, is the premium price tag... We're about certain that this is one of the most expensive 550W models we've ever seen.
Feature-wise, you'll not find any other power supply in its league. The PSU offers the ability to switch between multiple and single rail using the OCK Key. This is a feature allows you to run all amps through a single 12V rail compared to standard four rails. The option to connect fans directly to the PSU is also one of my favorites. Besides that, you have a great amount of modular connectors to the PSU itself. (probably more than you actually need on a 550W PSU) Also the anti-vibration rubbers, aluminium grill and overall build quality of the unit tops the very best.
Apart from the anti-vibration rubbers, you have the Silet Wings 3 fan inside the PSU generating practically no noise, even when the PSU is under full load.
When it comes to efficiency and the over power protection feature, this PSU really stands out from the crowd! In our tests, the efficiency never dropped below 91%, which absolutely great. The Maximum Wattage on the other hand offered a very big buffer to protect the unit for too high power levels.
Pros

Cons

Impressive Build Quality
Extremely low noise production
Very High Efficiency
Huge OPP Buffer
Switchable Singe/Multi Rail Key
(more than enough) Modular Cables
Direct Fan Connectors
A platinum certification is rare on low-wattage PSUs, as is our Platinum award. But for this product that knows no equals in build quality, efficiency, noise and features... We gladly hand our most precious award to Be Quiet's Dark Power Pro 11 550W PSU, even when its price is probably the major issue for most people. Because we believe that this product is technically one of the most beautiful engineered things we've seen over the year!
We decided to give the Be Quiet! Dark Power Pro 11 a Platinum award!
More Information about our awards can be found here